We work
Harder

so you can live

easier
At freedom yurt-cabins, we have designed our kits to be filled with innovative features that make building your Yurt a breeze. All while maintaining superior quality and comfortability! Read on to find out more about Freedom Yurt Cabins' features and innovations.
Integrated Platform System
Freedom Yurt Cabins have a unique and innovative base system that is integrated into the structure. While fabric yurts require you to build an expensive and permanent foundation or deck, the floor system of a Freedom Yurt Cabin is easily assembled and completely removable. Joists radiate outward from a steel center support ring. Adjustable feet make leveling quick and easy. Floor sheathing panels are precision cut and have integrated spacing nubs assuring the correct spacing between the sheathing panels. Sheathing is screwed directly to the joists. Sheathing screw locations are pre-drilled and counter-sunk for ease of installation (no guesswork). Access underneath the floor by removing individual sheathing panels or drilling straight through them to route plumbing and electricity, making yurt platform construction quick and easy.
The optional adds a subfloor of weather-resistant Zip Panels underneath the main plywood flooring. This provides 5″ of space between the joists to fill with the insulation of your choice (up to R-30 with spray-in, closed-cell foam). Insulation is not included. Note: The finished floor covering (hardwoods, laminate, carpet, etc.) and baseboards are not included with the Yurt Cabin kit. These items must be installed.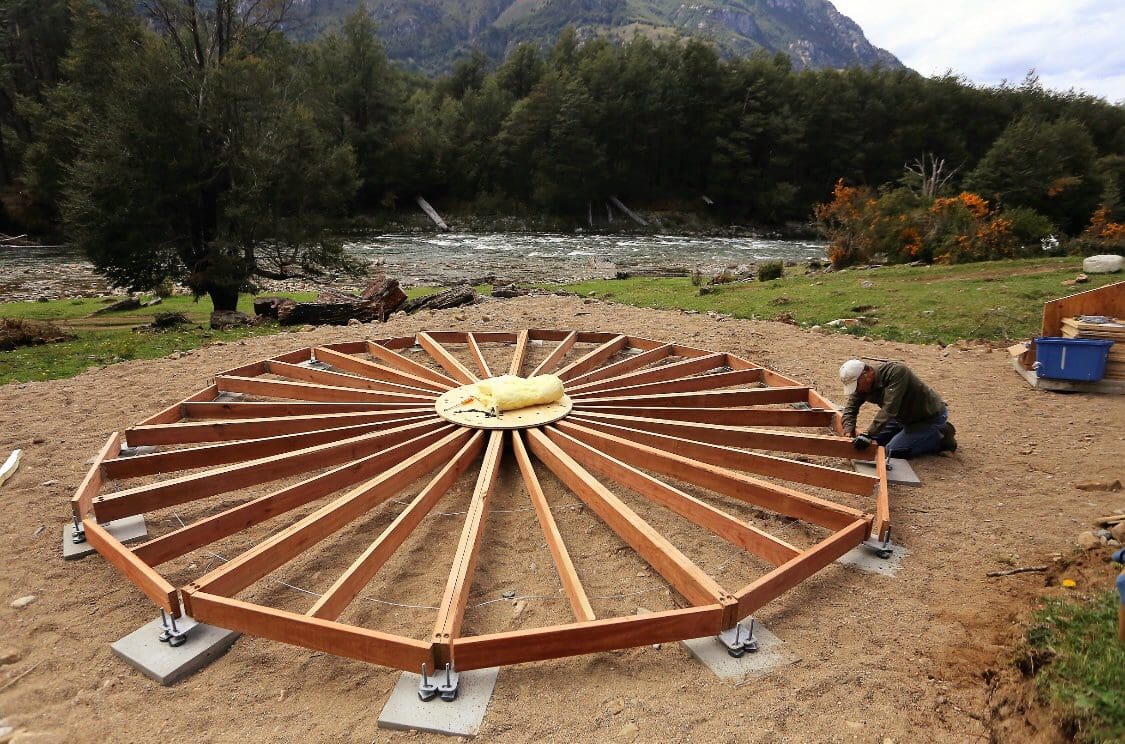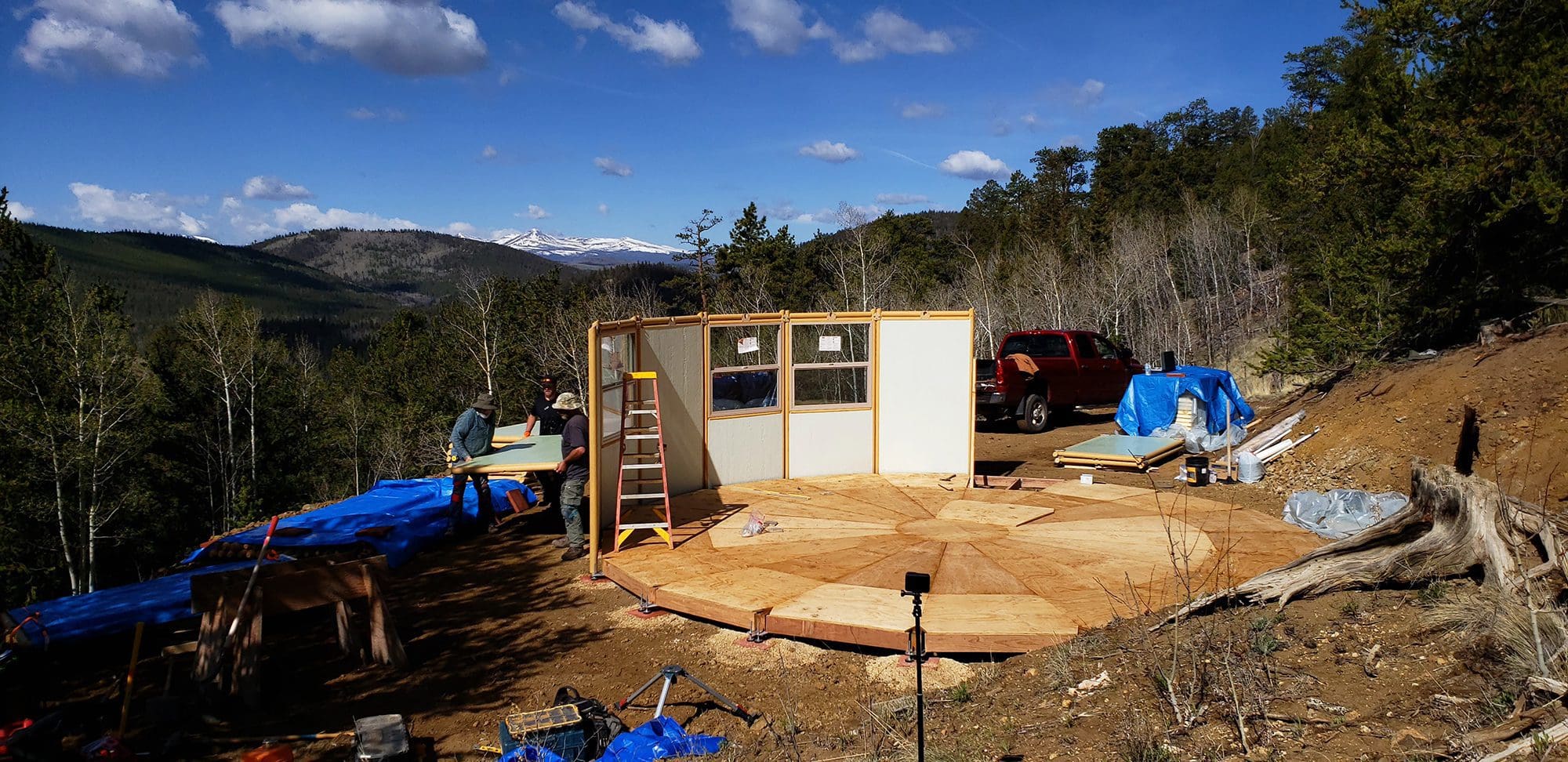 Our walls are made with meticulous attention to detail. Each solid yurt wall is precision crafted utilizing round log dowels for the frame with mortise and tenon joinery. The wall is then precision machined to accept a structurally-rated, engineered LP SmartSide® panel on both sides. Each wall is packed with 2 inches of fiberglass insulation (R-9.7 rating standard). Walls have a cedar texture and can be painted just about any color imaginable using premium Behr® Marquee paints.
Unlike fabric yurts, which require more intensive retrofitting to get the finish you want, our Yurt-Cabins can be customized just like you would a home. You also don't have to worry about adding expensive insulation upgrades, and there is no unsightly lattice, vinyl windows, nor exposed fabric in Yurt Cabin's all-wood interior.
Interior Rafters & Ceiling
Rafters are made from beautiful round Douglas Fir logs, which are sanded and finished with a durable, semi-transparent Weatherall® UV Guard stain. 3.5″-diameter rafters are standard. Upgrade to thicker 4″-diameter rafters for higher snow load capacity. The ceiling has a tongue-and-groove look, but it is actually plywood roof sheathing, sanded and stained the same as the rafters and frame members. Both the rafters and the ceiling combine to give the yurt a distinctive cabin feel inside.
Note: It is natural for Douglas Fir logs to have numerous cracks, especially because we use the stronger, straighter "heart center" of the log. Noticeable cracks do not affect the strength and capacity of the rafter.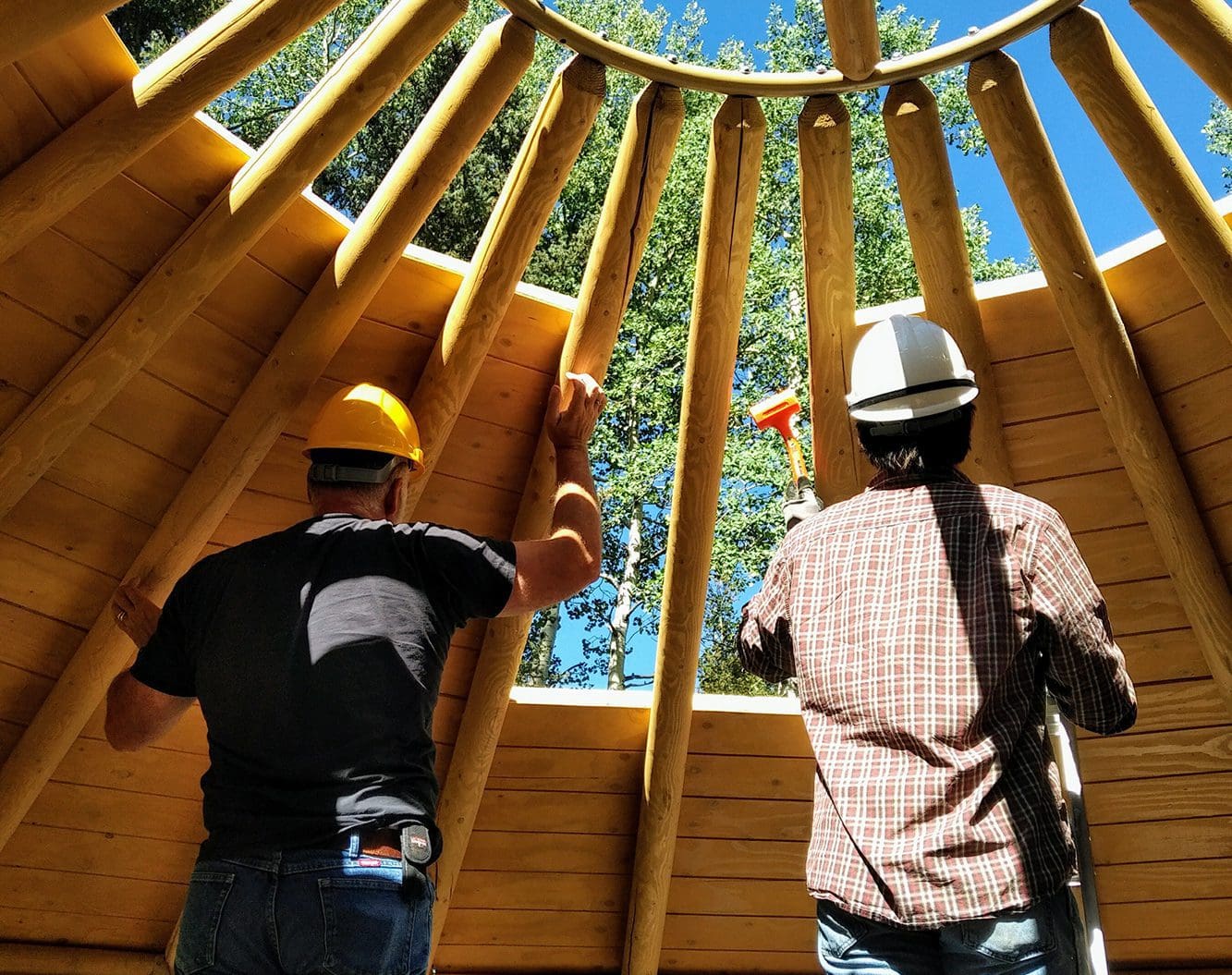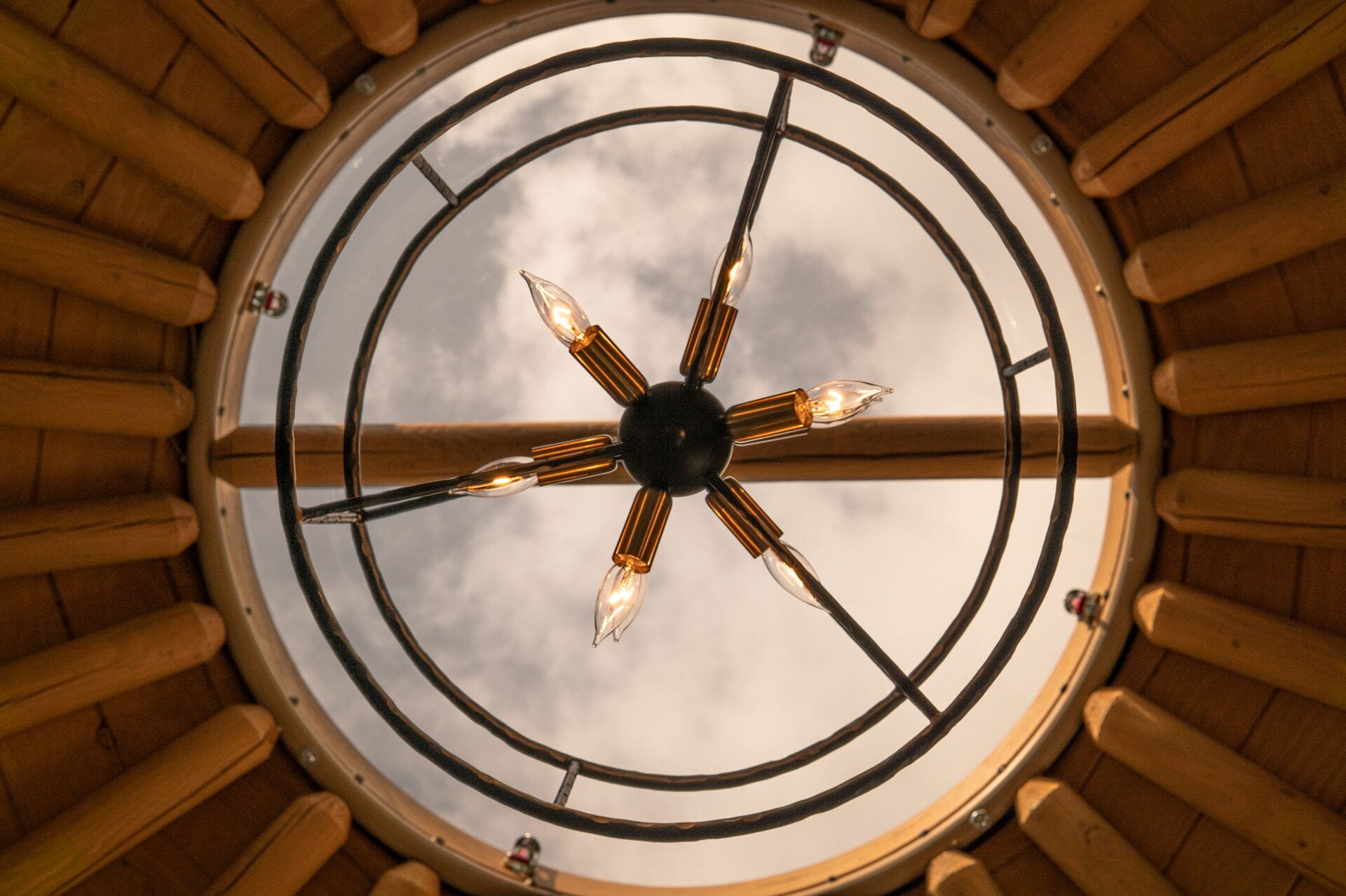 The yurt roof ring is strong but lightweight steel, which greatly facilitates the installation of the rafters. A fan mount inside the roof ring is an optional add-on (ceiling fan not included).
The "crown" goes on after the DuroLast® top-cover fabric has been installed. The crown seals tight against the fabric, creating a perfect transition between the roof and dome.
The standard roof dome is made from 1/4" clear acrylic. A tinted dome is an optional upgrade. The innovative dome opener opens 360° for maximum ventilation. This is a standard feature on every Yurt-Cabin roof. Even with the dome open, it's next to impossible for water to get in during a normal rain storm.
ROOF INSULATION & TOP COVER
Because of the unique wood ceiling and rafters, Yurt-Cabins have roof insulation above and beyond traditional fabric yurts. Two inches of rigid polyiso foam board insulation (R-13.7 rating standard) is sandwiched between the vinyl topcover and wood ceiling sheathing. The topcover is DuroLast® heavy duty commercial roof fabric, generally offered as the highest-quality roof cover in the modern yurt industry, and comes with a 15-year warranty.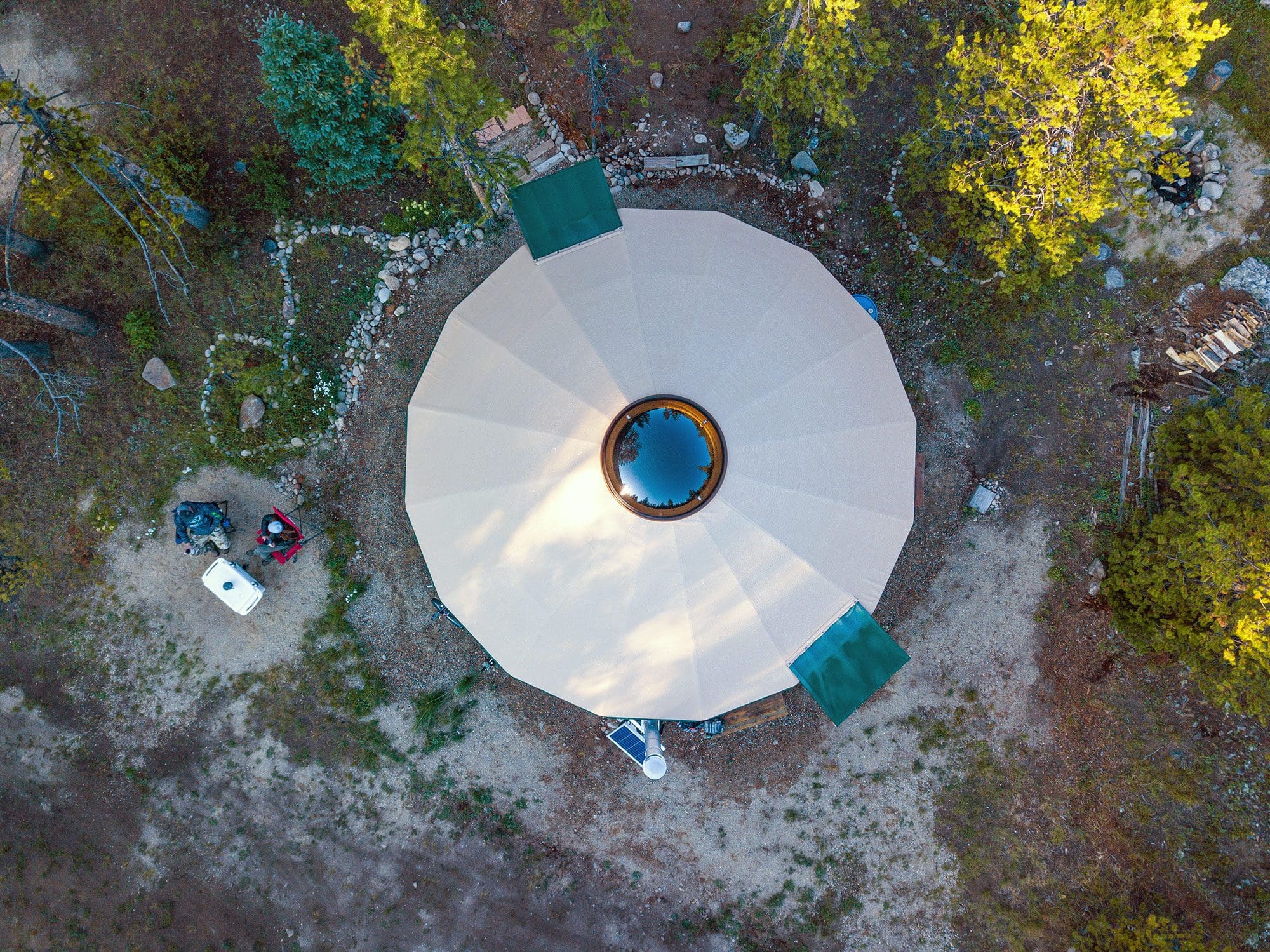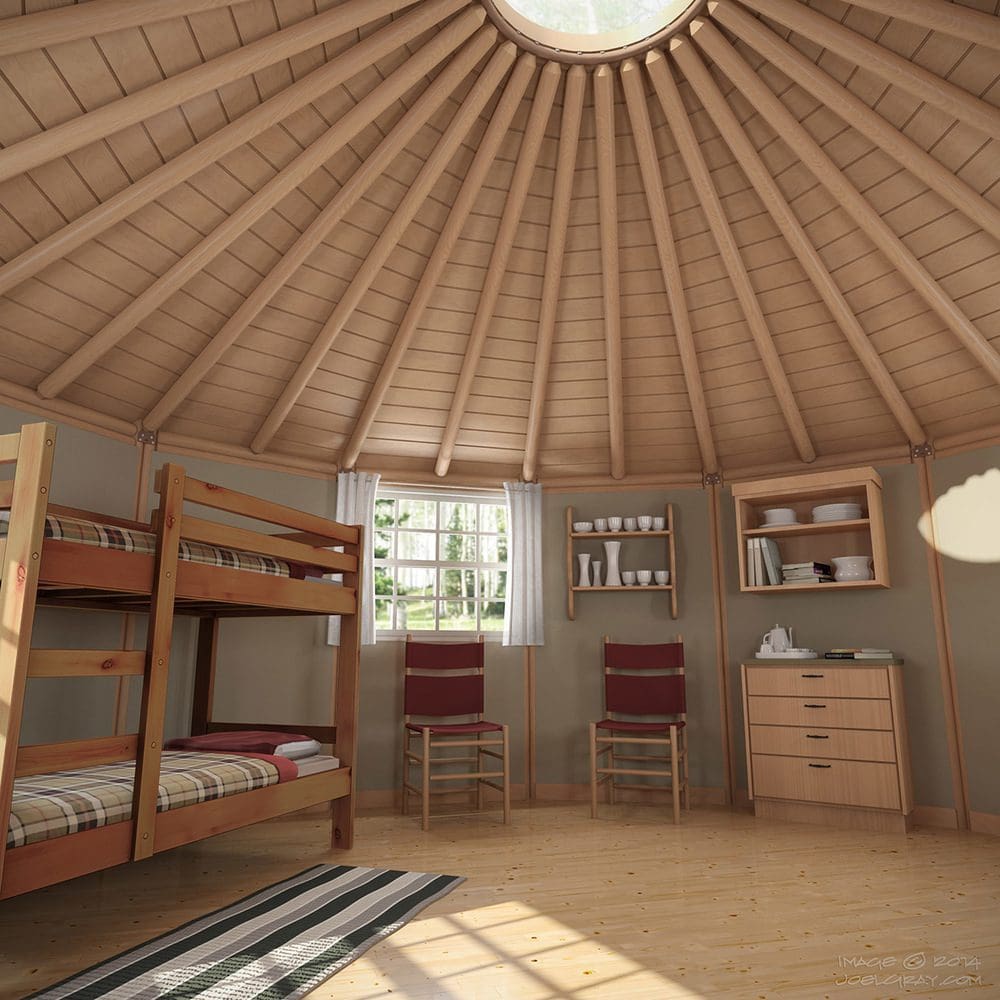 Windows are Milgard® high-quality, single-hung windows with a tan vinyl frame. Low-E, double-pane glass is standard. The standard windows do not have grids but include a lock and screen. The smallest 12-Wall Yurt Cabin (217sf) comes with two windows, the two middle-sized Yurt Cabins (296sf and 385sf) come with three windows, and the largest 18-Wall Yurt Cabin (490sf) comes with four windows. Yurt Cabins can be ordered with 2-3 extra windows depending on the size. Egress windows (10″ taller) are also available.
The standard door is an insulated 9-Lite fiberglass door with a deadbolt. This is a pre-hung standard 36" exterior house door. Using a standard door has the advantage of extra durability, and the ability to add a screen door or storm door if desired. The door is painted to match the color of the round log framing. Note: Door trim not included. Customers are responsible for installing screen and storm doors.
There are many innovations and features that set Freedom Yurt Cabins apart from the competition. Our eco-friendly yurts and accessories will meet all your needs. To start taking the first steps toward yurt ownership and to learn more about everything we have to offer, contact us today!